Brynna Fungi 19to27sept2013 021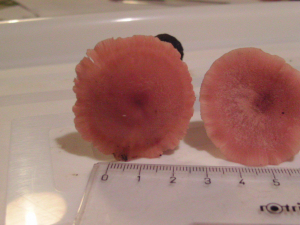 Observation - Brynna Fungi 19to27sept2013 021. Description: Under oak, hazel and hawthorn. One specimen appeared to be growing on an acorn! Cap 4cm umbel then flattening with slight central depression. Tan slightly lighter to margin and darker to centre.Margin slightly ribbed. Gills slightly lighter than cap, re
Under oak, hazel and hawthorn. One specimen appeared to be growing on an acorn!
Cap 4cm umbel then flattening with slight central depression. Tan slightly lighter to margin and darker to centre.Margin slightly ribbed.
Gills slightly lighter than cap, regular and fairly open.
Stipe to 7cm x 5mm brown stiff erect.White fibres to base.
Section flesh 2mm, gills 4mm, stem hollow and some moisture on cutting.
Slight mushroomy smell.
Spore print white.