Brynna Woods fungi 29sept2013 008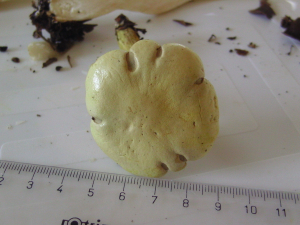 Observation - Brynna Woods fungi 29sept2013 008 - UK and Ireland. Description: Under hazel and willow in very damp woodland. Cap 4.5cm yellowish flatish margin slightly in rolled and irregular. Gills yellowish wavy, open and slightly decurrent. Stipe more yellow 6cm x 6mm slightly bulbous to base some striations. Section flesh a
Under hazel and willow in very damp woodland.
Cap 4.5cm yellowish flatish margin slightly in rolled and irregular.
Gills yellowish wavy, open and slightly decurrent.
Stipe more yellow 6cm x 6mm slightly bulbous to base some striations.
Section flesh and stipe yellowish.
Very distinctive smell - burnt plastic maybe coal gas but I don't remember how that smells!
Main navigation