Tiny white army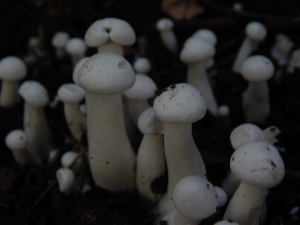 Observation - Tiny white army. Description: I've been watching this army of small white fungi for over a week. They appear to growing in the soil rather than on wood or another fungus. Caps are now starting to open. The closest thing I can find is Asterophora parasitica but there are no other vis
I've been watching this army of small white fungi for over a week. They appear to growing in the soil rather than on wood or another fungus.
Caps are now starting to open.
The closest thing I can find is Asterophora parasitica but there are no other visible fungi and these don't look right with their fat stalks.