Panicum capillare (atypical form)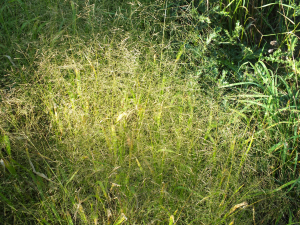 Observation - Panicum capillare (atypical form) - UK and Ireland. Description: Last year (12th October) I saw a grass at SJ80676795 which was identified here as Panicum capillare, but the photographs weren't very good for identification. Now I've found the same plant at s
Last year (12th October) I saw a grass at SJ80676795 which was identified here as Panicum capillare, but the photographs weren't very good for identification.

Now I've found the same plant at several places in that vicinity. It was photographed at SJ80586804 in the corner of a maize field, and formed a discontinuous population among the edge of that field, recorded at SJ80506804, SJ80516804, SJ80536804, SJ80546804, and in the gateways of three other maize fields at SJ80686795, SJ80676795 (last year's site, again with Echinochloa crus-galli) and SJ80646787 (with Setaria verticillata).

I hadn't realised how rare Panicum capillare was, but Panicum dichotomiflorum is 10 times rarer.

13Oct2013: retitled.
Main navigation