invading army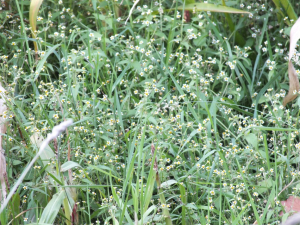 Observation - invading army - UK and Ireland. Description: Large colony of Galinsoga (gallant/shaggy soldier) in the corner of a maize field (SJ80886788), photographed over the top of a hedge. It was also present in the next corner of the field (SJ80766806), so it could be a very large colony - the inter
Large colony of Galinsoga (gallant/shaggy soldier) in the corner of a maize field (SJ80886788), photographed over the top of a hedge. It was also present in the next corner of the field (SJ80766806), so it could be a very large colony - the intervening section of the field was hidden by the hedge.

This is the first time I've seen this genus in a maize field. I've usually seen it as a pavement weed, but I've also seen it in an allotment site, in a garden open to the public, and by a rural road.

13Oct2013: I found some more in a gate to the north (SJ80686816), when it could be more easily examined. I'm still not sure of its identify, but from the absence of prominent hairiness I suspect that it is Galinsoga parviflora.
Main navigation