Water plant with runners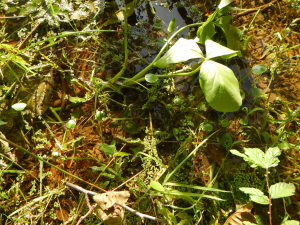 Observation - Water plant with runners - UK and Ireland. Description: I am not sure what this is. The leaves are not kidney shaped enough for Frogbit. The leaves are 2cm dia on long stalks from a runner. There are no flowers. It was growing in a pond along with bog bean. Frogbit and luronium natans don't occur in Scotland
I am not sure what this is. The leaves are not kidney shaped enough for Frogbit. The leaves are 2cm dia on long stalks from a runner. There are no flowers.
It was growing in a pond along with bog bean.
Frogbit and luronium natans don't occur in Scotland as far as I can see.
Any ideas??
Main navigation