Unknown beetle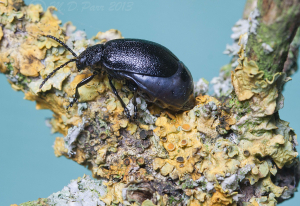 Observation - Unknown beetle - UK and Ireland. Description: Black beetle about 10mm long, with small elytra perched on a bulging soft abdomen. Abdomen has a dark oblong bar at the rear just behind elytra. Shape reminded me of a female Gastrophysa viridula but no sign of any green pigment and abdomen seemed more r
Black beetle about 10mm long, with small elytra perched on a bulging soft abdomen. Abdomen has a dark oblong bar at the rear just behind elytra.
Shape reminded me of a female Gastrophysa viridula but no sign of any green pigment and abdomen seemed more robust than those I have seen with a more matt finish.

Found on grass on a bioblitz at Maple lodge Nature reserve.

Any help with ID greatly appreciated!
Main navigation