Teasel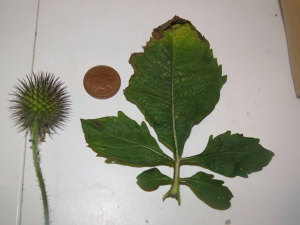 Observation - Teasel - UK and Ireland. Description: a debut species observation for me, so naturally im pleased as punch to find this rather local plant. in terms of height theres not that much separating this from 'regular' Teasel D fullonum - at least in the specimens i observed. so i guess 'Small' pr
a debut species observation for me, so naturally im pleased as punch to find this "rather local" plant.
in terms of height theres not that much separating this from 'regular' Teasel D fullonum - at least in the specimens i observed. so i guess 'Small' primarily refers to the - almost spherical - heads. these lack the distinctively elegant and long, upwards-curving, involucral bracts of D fullonum and also differ from the slightly shorter, thicker and more spreading ones belonging to the cultivar formerly used in the woollen industry; D sativus.
the completely different stem leaves with pairs of basal leaflets (shown) are another dead give away disambiguating characteristic.
Main navigation