Please help identify these fish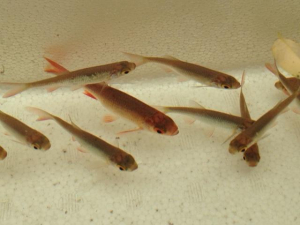 Observation - Please help identify these fish - UK and Ireland. Description: Please help to identify these fish. I was given eleven 'tiddlers' by a a friends who has a shoal of these fish in her established garden pond, sizes varying from one inch to about seven inches (so not a minnow ). I have kept fish for many years but I can
Please help to identify these fish.
I was given eleven 'tiddlers' by a a friends who has a shoal of these fish in her established garden pond, sizes varying from one inch to about seven inches (so not a minnow ). I have kept fish for many years but I cannot identify them.
They appear much lighter in this picture but in the pond they all appear to be VERY dark green/black with orange fins. I know that roach/rudd and some carp have red/orange fins but these are more cylindrical (and much faster)- even when grown. Any ideas please?
Main navigation