Brynna Woods fungi 7 8sept2013 009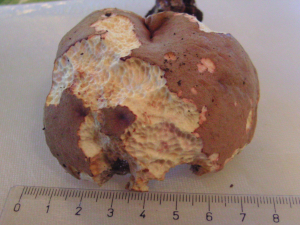 Observation - Brynna Woods fungi 7 8sept2013 009 - UK and Ireland. Description: Cap 7cm velvety/suede buff coloured with slight pink around chewed edges. Pores 'khaki' (I'm not good at explaining colours!)irregular oval/circular to 1mm. When cap pulled apart pores remain whole Stipe 5cm x 12mm not straight. Light tan with some red
Cap 7cm velvety/suede buff coloured with slight pink around chewed edges.
Pores 'khaki' (I'm not good at explaining colours!)irregular oval/circular to 1mm.
When cap pulled apart pores remain whole
Stipe 5cm x 12mm not straight. Light tan with some reddish at top, smooth to faintly longitudinally ribbed.
Section slightly pinkening of flesh after 2-3 minutes particularly near cap. Fleshcream, pores 'khaki', stipe cream. No strong discolouration.
Faint mushroomy smell.
Spore print 'khaki'!
Main navigation