Brynna Woods fungi 7 8sept2013 006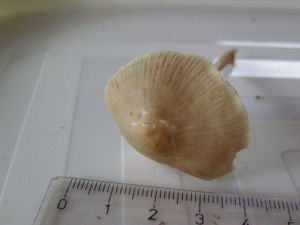 Observation - Brynna Woods fungi 7 8sept2013 006 - UK and Ireland. Description: Cap 3.5cm umbel ridged especially towards margin, light tan slightly darker to centre. Gills very light tan regular and fairly open. Stipe 6.5cm x 3mm fairly stiff and erect same colour as gills. Section flesh very thin, gills to 4mm very light tan. St
Cap 3.5cm umbel ridged especially towards margin, light tan slightly darker to centre.
Gills very light tan regular and fairly open.
Stipe 6.5cm x 3mm fairly stiff and erect same colour as gills.
Section flesh very thin, gills to 4mm very light tan. Stipe hollow.
Light cream spore print.
Growing in leaf litter mixed damp wood - hazel and willow mostly. A number of specimens but not in clump.
Main navigation