Brynna Woods fungi 6sept2013 001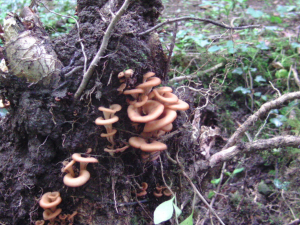 Observation - Brynna Woods fungi 6sept2013 001 - UK and Ireland. Description: Growing on soil at base of fallen hazel. Cap dark tan indented to stipe 3cm. Gills lighter tan than cap fairly regular very strongly decurrent. Stipe to one side of cap 2cm 5mm at top narrowing to base which is brown. Very faint aniseed smell strength
Growing on soil at base of fallen hazel.
Cap dark tan indented to stipe 3cm.
Gills lighter tan than cap fairly regular very strongly decurrent.
Stipe to one side of cap 2cm 5mm at top narrowing to base which is brown.
Very faint aniseed smell strengthening after 24 hours.
No spore print obtained.
Main navigation