Scaleworm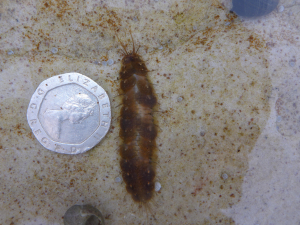 Observation - Scaleworm - UK and Ireland. Description: An annelid worm found in rock pools, usually under stones. There are a number of these and they are difficult to separate but, as I am now several months into my apprenticeship, I am gaining confidence. So, from the magic handbook by Hayward and Ryland -
An annelid worm found in rock pools, usually under stones. There are a number of these and they are difficult to separate but, as I am now several months into my apprenticeship, I am gaining confidence.
So, from the magic handbook by Hayward and Ryland -
"Frontal horns prominent.."
"Elytra easily shed.."
"Yellowish median spot" on elytra...
"..reticular pattern.."
And now I have a stereo microscope!
I'm convinced.
Main navigation