Brynna Woods fungi 2sept2013 008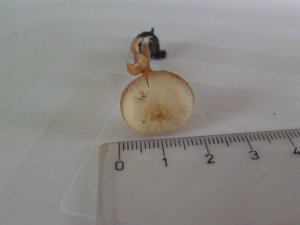 Observation - Brynna Woods fungi 2sept2013 008 - UK and Ireland. Description: Cap 1.5cm some other specimens to 2cm. Pale tan with slightly darker centre and margin. Umberella shape flattening. Gills darker and slightly irregular Stipe 4cm x 3mm stiff and erect. Similar colour to gills slightly lined. Section stipe tough and ho
Cap 1.5cm some other specimens to 2cm. Pale tan with slightly darker centre and margin. Umberella shape flattening.
Gills darker and slightly irregular
Stipe 4cm x 3mm stiff and erect. Similar colour to gills slightly lined.
Section stipe tough and hollow. Cap flesh thin 1mm max gills upto 4mm.
No spore print obtained.
Main navigation