Vermicelli Worm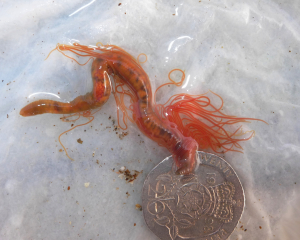 Observation - Vermicelli Worm - UK and Ireland. Description: Supporting http://www.ispot.org.uk/node/364918 which still has no agreements. Picture 3 is as found, after the covering stone had been removed. It turned out to be two worms, perhaps mating. Once settled into my specimen tub on tissue paper, they relaxed
Supporting http://www.ispot.org.uk/node/364918 which still has no agreements.
Picture 3 is as found, after the covering stone had been removed. It turned out to be two worms, perhaps mating. Once settled into my specimen tub on tissue paper, they relaxed and put on a show.
I was struck by the suffused appearance, suggesting that their digestive and circulation systems have a lot to offer researchers (see comment).
The tentacles are mostly towards the head end but another, lesser group, appears further down at about at one third of length. But there are quite a few tentacles at other points. The worm appears to be able to stretch and contort over quite a range. Picture 5 shows it back in the pool.
The Internet is very sparse with descriptions and detail. Hayward & Ryland is (are) disappointing.
Cirratulidae, Cirratulidae, Cirratulidae, CIRRATULIDAE!
Main navigation