Myxomatosis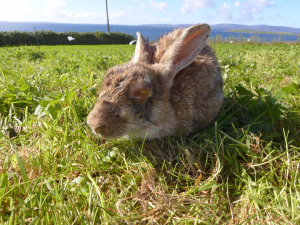 Observation - Myxomatosis - UK and Ireland. Description: Myxomatosis is an unpleasant, unsightly rabbit disease. It is carried from rabbit to rabbit by the infecting flea, possibly Spilopsyllus cuniculi, seen in the pictures. I have chosen to post in Other Organisms because the post is not of a rabbit nor the
Myxomatosis is an unpleasant, unsightly rabbit disease. It is carried from rabbit to rabbit by the infecting flea, possibly Spilopsyllus cuniculi, seen in the pictures.
I have chosen to post in Other Organisms because the post is not of a rabbit nor the flea but a virus.
I always quickly dispatch rabbits found like this.
It is a 'blessing' for us just now, as the rabbits seem terribly overpopulated; they are damaging the ground and over-grazing the otherwise valuable pastures.

http://www.rabbitwelfare.co.uk/resources/content/info-sheets/understanding_myxo_feb06.htm
Main navigation