Molly's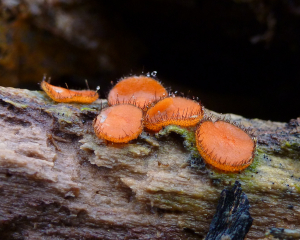 Observation - Molly's - UK and Ireland. Description: I took pictures of these 3mm orange blobs on a log. Only when I came to look at the pictures at home did I find eyelashes. Seems improbable but I took to my WebBrowser and low-and-behold Molly Eye Winker! And why not? The trouble is, they are difficult t
I took pictures of these 3mm orange blobs on a log. Only when I came to look at the pictures at home did I find eyelashes. Seems improbable but I took to my WebBrowser and low-and-behold Molly Eye Winker! And why not?
The trouble is, they are difficult to separate.
Pictures 1 and 2 are probably Scutellinia scutelata - I'd like to think so (I'm prettysureso). They are the right size, shape, colour, texture, in the right location and on the right substrate.
But, hang on, pictures 3 and 4 are of one, massive by comparison, way out on an open moorland growing on damp peat. Maybe that's setosa, cranita, crucipila - who knows?
So, to attract 30 agreements, I have gone 'safe' with an ID, not my usual style.
Main navigation