Speckled Bush Crickets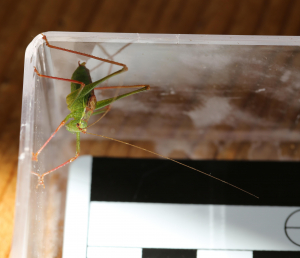 Observation - Speckled Bush Crickets - UK and Ireland. Description: These two crickets turned up in my son's van (he's a gardener) so while I know they cam from Hitchin, I don't know exactly where. He passed them to me to find out what they were. Active little chaps, hard to keep up with with the camera! The scale vi
These two crickets turned up in my son's van (he's a gardener) so while I know they cam from Hitchin, I don't know exactly where. He passed them to me to find out what they were.
Active little chaps, hard to keep up with with the camera!
The scale visible in the first picture is metric.
Main navigation