Picture wing fly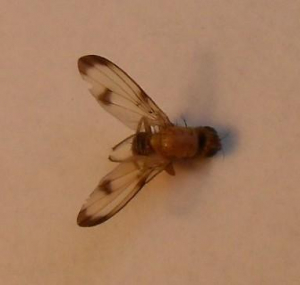 Observation - Picture wing fly - UK and Ireland. Description: Caught on Dibbinsdale LNR, Wirral. Apologies for the rose tint on the photos. Wing length: 4.5-5 mm. Thorax and scutellum a pale orange or straw colour. Abdomen looks black but a close view shows some faint yellow on edges of segments (best I can see
Caught on Dibbinsdale LNR, Wirral.

Apologies for the rose tint on the photos.
Wing length: 4.5-5 mm. Thorax and scutellum a pale orange or straw colour. Abdomen looks black but a close view shows some faint yellow on edges of segments (best I can see with a 15x lens).

Seems like a Pallopterid but which one? Looks very much like a Palloptera trimacula on this site but abdomen colour a bit different.
Main navigation