For identification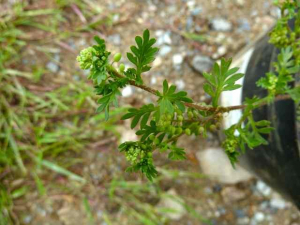 Observation - For identification. Description: Found first on a building site where ground had been disturbed. It was growing on subsoil. I found just the one plant and transferred it to a plant pot. On 26 August I came across it again - on a farm a few miles away. Again it was on rough groun
Found first on a building site where ground had been disturbed.
It was growing on subsoil.
I found just the one plant and transferred it to a plant pot.

On 26 August I came across it again - on a farm a few miles away.
Again it was on rough ground covered with gravel, just outside the back door.
Very tough plant - not damaged by being walked on.
Here there were more, but even smaller plants, creeping over the ground.