Crimson solitary bee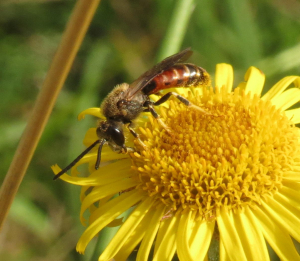 Observation - Crimson solitary bee - UK and Ireland. Description: Quite large for a Lasioglossum. Red on abdomen indicates male Lasioglossum calceatum or albipes. The pale yellow labrum (upper mouthpart) is diagnostic of albipes and is just visible on the second shot, and more so on the third photo of a different ind
Quite large for a Lasioglossum. Red on abdomen indicates male Lasioglossum calceatum or albipes.

The pale yellow labrum (upper mouthpart) is diagnostic of albipes and is just visible on the second shot, and more so on the third photo of a different individual.

These are quite numerous here at the moment. Some might yet prove to be calceatum.
Main navigation