Fairy Inkcaps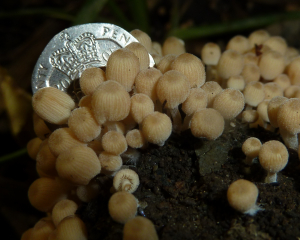 Observation - Fairy Inkcaps - UK and Ireland. Description: A huge group of these miniscule inkcaps - a perfect trooping crowd of dwarfs. Reaching for web-confirmation, I was surprised to how few examples show scale - I may have overdone it! The one (so far) iSpot posting of Psathyrella pygmaea reinforces my gut
A huge group of these miniscule inkcaps - a perfect trooping crowd of dwarfs.
Reaching for web-confirmation, I was surprised to how few examples show scale - I may have overdone it!
The one (so far) iSpot posting of Psathyrella pygmaea reinforces my gut feeling (that this is the same and I wish it was) but that is taken in the Czech Republic.
The apparent pubescence at the base of stems and slight fluffiness of some caps seem to suggest Coprinellus disseminates.
Very pale underneath with more than a hint, in Picture 1, of a cobweb-like cortina.
I shamefully missed the opportunity to see this group at a later, deliquessing, stage.
Main navigation