Paddle worm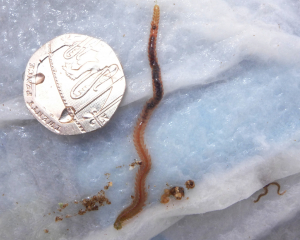 Observation - Paddle worm. Description: A paddle worm (Phyllodocidae) A lively, matchstick-sized, narrow and segmented worm. Overall light brown but with a greenish tone, particularly at the head end. At its mobile-stretched length about 5cms but maybe a little longer when fully extended. Ab
A paddle worm (Phyllodocidae)
A lively, matchstick-sized, narrow and segmented worm. Overall light brown but with a greenish tone, particularly at the head end.
At its mobile-stretched length about 5cms but maybe a little longer when fully extended. About 72 segments, each of which had a bristle-terminated leg or paddle.

See Comments
Core edit
Added 7th Picture