Brimstone - Male and Female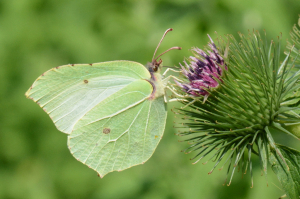 Observation - Brimstone - Male and Female - UK and Ireland. Description: I thought this was a fairly good example to show the difference between the female and male Brimstone Butterfly. Female left (greenish) - Male right (yellowish) In all my other attempts I have not been able to get the difference to show up that well
I thought this was a fairly good example to show the difference between the female and male Brimstone Butterfly.

Female left (greenish) - Male right (yellowish)

In all my other attempts I have not been able to get the difference to show up that well. These two settled on the same Burdock flower within seconds of each other.
Main navigation