Infestion of tiny larvae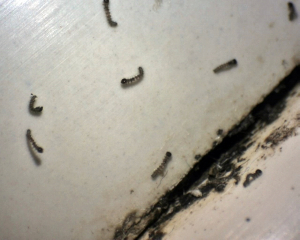 Observation - Infestion of tiny larvae - UK and Ireland. Description: These things are 2mm long and raise themselves up on prolegs they have bristles. On my toilet window ledge (which is tiled) - they seem to be coming from the discolured silicon seal around the plastic frame. There are hundreds of them - I've remove t
These things are 2mm long and raise themselves up on prolegs they have bristles.

On my toilet window ledge (which is tiled) - they seem to be coming from the
discolured silicon seal around the plastic frame. There are hundreds of them -
I've remove them twice (wiped them away) within a couple of hours they are back.

I have had House Sparrows nesting in the cavity within 2 feet of the windowledge
Main navigation