Brynna Woods fungi23aug2013 001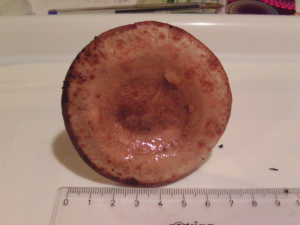 Observation - Brynna Woods fungi23aug2013 001 - UK and Ireland. Description: Growing on fallen Hazel trunk. Cap 7cm tan with darker margin. Slightly concave. Wet and sticky. Rim very obviously rolled under. Gills tan slightly lighter than cap but darkening on bruising. Stipe 5.5cm x 13mm crooked with brown vertical lines. Sect
Growing on fallen Hazel trunk.
Cap 7cm tan with darker margin. Slightly concave. Wet and sticky. Rim very obviously rolled under.
Gills tan slightly lighter than cap but darkening on bruising.
Stipe 5.5cm x 13mm crooked with brown vertical lines.
Section flesh pale tan, gills staining brown. Stipe section slightly darker and staining brown along edges.
Smell slightly mushroomy.
Main navigation