Fartichoking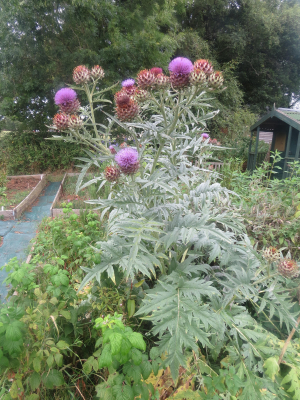 Observation - Fartichoking - UK and Ireland. Description: resembles a monstrous Centauria or Cirsium and indeed, this is a type of thistle. you eat the buds and they taste ok but beware of consuming them before going on a date; they can give you terrible wind! not to be confused with Jerusalem Artichoke Heliant
resembles a monstrous Centauria or Cirsium and indeed, this is a type of thistle. you eat the buds and they taste ok but beware of consuming them before going on a date; they can give you terrible wind!
not to be confused with Jerusalem Artichoke Helianthus tuberosus, wherein the roots are consumed.
these magnificent plants were observed on an allotment.
Main navigation