crimson cornflower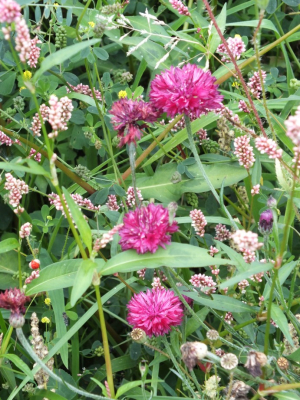 Observation - crimson cornflower - UK and Ireland. Description: A variety of ruderals are growing on the Trent and Mersey Canal towpath where the ground has been disturbed by overwinter bank repair works. These include Artemisia vulgaris, Chenopodium album, Fallopia convolvulus, Medicago
A variety of ruderals are growing on the Trent and Mersey Canal towpath where the ground has been disturbed by overwinter bank repair works. These include Artemisia vulgaris, Chenopodium album, Fallopia convolvulus, Medicago lupulina, Melilotus sp., Persicaria maculosa, Polygonum aviculare agg. (P. agrestinum?) and Vicia hirsuta.

Among these are smaller numbers of a number of rarer plants including cf Brassica nigra, Brassica rapa, Centaurea cyanus (crimson), Papaver rhoeas, Petunia x hybrida, Silene armeria, Thlaspi arvense (only dead broken fruiting stems seen), Trifolium hybridum, Triticum aestivum, Vicia aff. cracca and Viola x wittrockiana (white).

The mix of species suggests introduction with soil, rather than the use of a seed mix.

There were 2 or 3 cornflower plants.
Main navigation