Mystery Hoverfly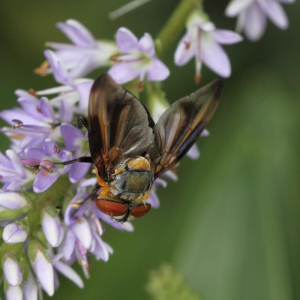 Observation - Mystery Hoverfly - UK and Ireland. Description: At least, I think it's a hoverfly. First of all, apologies for atrocious photos. This character moved swiftly, continually buried its head in the flowers and was generally difficult to catch. My initially having the stabilizer turned off didn't help, e
At least, I think it's a hoverfly.

First of all, apologies for atrocious photos. This character moved swiftly, continually buried its head in the flowers and was generally difficult to catch. My initially having the stabilizer turned off didn't help, either!

Most notable features were the seemingly black and gold/yellow patterned wings and a very broad but flattened, dark abdomen.
Main navigation