Brynna Woods fungus22aug2013 001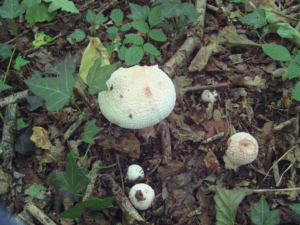 Observation - Brynna Woods fungus22aug2013 001 - UK and Ireland. Description: In leaf litter under mainly Hazel. Cap 8cm pinkish to centre almost white on margin. Scales particularly to centre. Discoulering more pinkish with handling. Gills white regular. Stipe 8cm x 15mm. Prominent veil.White above veil. Very light tan below be
In leaf litter under mainly Hazel.
Cap 8cm pinkish to centre almost white on margin. Scales particularly to centre. Discoulering more pinkish with handling.
Gills white regular.
Stipe 8cm x 15mm. Prominent veil.White above veil. Very light tan below becoming very light pink at base. Base bulbous.
Section flesh and gills white. Stipe white and fibrous to centre. Staining pinkish to base and hollow.
Spore print white.
No appreciable odour.
Main navigation