Unknown Bee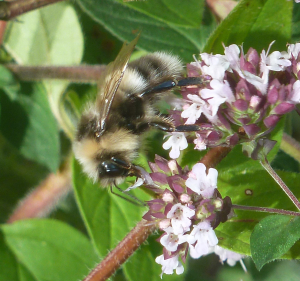 Observation - Unknown Bee - UK and Ireland. Description: A very blonde bee with similarities to bombus terrestris in banding but a bit smaller. Seen on marjoram flowers in the garden - along with a number of other kinds of bumblebee and butterflies. On a housing estate but about 50 metres from a railway and
A very blonde bee with similarities to bombus terrestris in banding but a bit smaller.
Seen on marjoram flowers in the garden - along with a number of other kinds of bumblebee and butterflies.
On a housing estate but about 50 metres from a railway and open land/farmland.
The last picture shows a bald-looking patch on the thorax (or could it be some sort of parasite?) but others are furrier.

Thanks for the suggestions. I don't think it is bombus pascuorum due to the black thorax. Also, all the pictures I can see of bombus lucorum are much yellower.
Any possibility it is a shrill carder bee?
The wrong place, admittedly......
Main navigation