field woundwort (was unidentified labiate)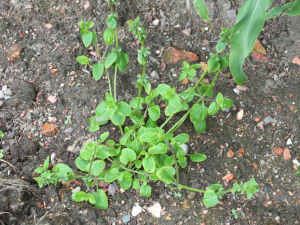 Observation - field woundwort (was unidentified labiate) - UK and Ireland. Description: Small labiate (about 10 inches across) growing at the edge of a maize field. Odour of brushed foliage faint, but reminsscent of Stachys sylvatica and Ballota nigra. In spite of the lack of odour, I wondered whether it was a young
Small labiate (about 10 inches across) growing at the edge of a maize field.

Odour of brushed foliage faint, but reminsscent of Stachys sylvatica and Ballota nigra.

In spite of the lack of odour, I wondered whether it was a young Ballota nigra. But the rounded leaves are another strike against that.

The other candidate identification I came up with was Stachys arvensis, but it has a different habit from the Stachys arvensis that I've seen elsewhere, which had the same erect habit as Stachys sylvatica and Stachys palustris.
Main navigation