Greater Stitchwort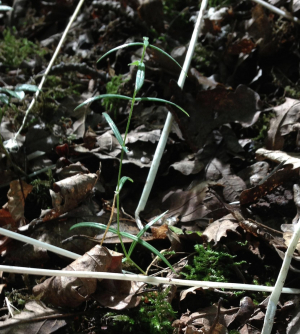 Observation - Greater Stitchwort. Description: This plant was a forming fairly sparse mat on the woodland floor of an ancient semi natural woodland in north west Cumbria. There were no flowers to be found on any of the plants. Each stem was between 3 to 5 inches tall with trailing roots ( or unleav
This plant was a forming fairly sparse mat on the woodland floor of an ancient semi natural woodland in north west Cumbria. There were no flowers to be found on any of the plants.
Each stem was between 3 to 5 inches tall with trailing roots ( or unleaved stem) which are straw coloured and which travelled for a few more inches through the leaf mold.
Leaves in opposite pairs, long and slender up to an inch in length. With a slight groove from stem to tip of leaf.
Wen through the book a few times with a very plant savvy friend and drew complete blank.