Field Mushroom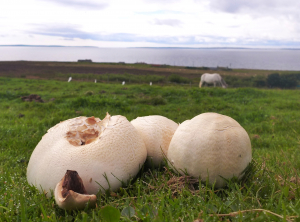 Observation - Field Mushroom. Description: A perfect year for these and many other pasture-fungi. It holds up well against Autumn's rain and here, a stone's throw from Scapa Flow, already salty! Groups, rarely alone. Can (and will be) confused with Horse Mushroom A. arvensis. White fleshed, mil
A perfect year for these and many other pasture-fungi.
It holds up well against Autumn's rain and here, a stone's throw from Scapa Flow, already salty!
Groups, rarely alone. Can (and will be) confused with Horse Mushroom A. arvensis.
White fleshed, mild raw, best fried in butter; yum but...read the iSpot warning.