Brynna Woods fungi 16aug2013 005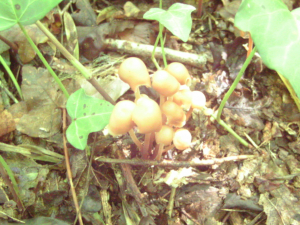 Observation - Brynna Woods fungi 16aug2013 005 - UK and Ireland. Description: Cap 1.5cm tan slightly lighter on margin. Folded under at margin.Slightly rubber feel and felt damp to touch. Gills tan slightly lighter than cap. Regular close. Stipe erect stiff tan at top darkening to reddish brown at base. 7cm x 2mm hollow. Very sl
Cap 1.5cm tan slightly lighter on margin. Folded under at margin.Slightly rubber feel and felt damp to touch.
Gills tan slightly lighter than cap. Regular close.
Stipe erect stiff tan at top darkening to reddish brown at base. 7cm x 2mm hollow.
Very slight mushroomy smell.
Under Ash saplings in leaf litter.
Main navigation