St John's Wort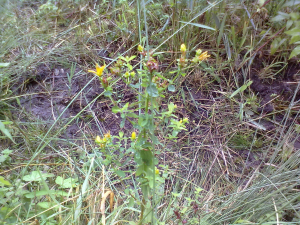 Observation - St John's Wort - UK and Ireland. Description: But which one? Plants about 2' high, at the edge of the boardwalk across the fen (quite boggy and well trampled by the reserve ponies). Much branched, with bright yellow flowers. Stems: definitely had two ridges, possibly four. We could not agree if
But which one?

Plants about 2' high, at the edge of the boardwalk across the fen (quite boggy and well trampled by the reserve ponies). Much branched, with bright yellow flowers.

Stems: definitely had two ridges, possibly four. We could not agree if they were square or not: at the top of the plant, just below the flowers, the stems were rounded (oval)with two ridges. Lower down they appeared to be square with four ridges, two greater and two lesser. But some members of the group were adamant that they were round stems.

Petals: clearly much longer than sepals. Back of petals had black dots and streaks: sepals had black dots.

Flowers appeared to have stamens in three bunches.

Stems and leaves were glabrous (not hairy).

Leaves had black dots all around the margins: there were no translucent dots: they were not cordate at base, nor were they clasping.

Lack of translucent dots means not H. perforatum (not that we would expect to see it in fenland) and we weren't sure enough of the square stems to go for H. maculatum, which we might expect on heavy, damp soils. According to Rose, H. maculatum has black dots on the face (tops) of the petals, which this plant does not - streaks and dots below, but plain yellow on top.

Could it be H. x desetangsii, we wondered?

I would welcome any comments or IDs with reasoning/explanation.
Main navigation