Tall plant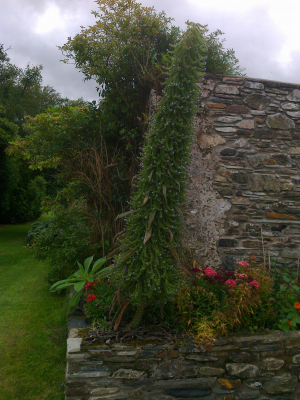 Observation - Tall plant - UK and Ireland. Description: I do not know if this is a shrub, bush or tree-to-be. It may well be an alien import. I do not know if the tangle of dark grey fronds/roots at the base belong to the same plant. The trunk/stem base is ~6-9 cm dia. and layered (a bit like a pineapple), th
I do not know if this is a shrub, bush or tree-to-be. It may well be an alien import. I do not know if the tangle of dark grey fronds/roots at the base belong to the same plant.
The trunk/stem base is ~6-9 cm dia. and layered (a bit like a pineapple), the leaves are somewhat fluffy except the ones that stick out like tongues. The flowers are blue bells slightly smaller than and adult little finger end.
It is in Milntown formal ornamental garden.
Main navigation