Tipula (Pterelachisus) irrorata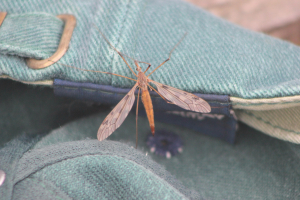 Observation - Tipula (Pterelachisus) irrorata - UK and Ireland. Description: Found on a hat. The general area is grassland / hedgerow / freshwater. Approx 250m above sea level. Female. Clear marking on wings which are held out at about 45deg to the body. Abdomen yellowish with a narrow dark stripe along the back; reddish-brown tip
Found on a hat. The general area is grassland / hedgerow / freshwater. Approx 250m above sea level. Female. Clear marking on wings which are held out at about 45deg to the body. Abdomen yellowish with a narrow dark stripe along the back; reddish-brown tip to abdomen. Legs yellowish except for distal ends of femurs which are dark brown.

The nearest I can come to an ID is Tipula montana which I hesitate to put up because of its scarcity and the altitude of the location.

Can anyone help, please?

Edit: Changed to match Grant's ID. Many thanks.
Main navigation