Wood Crane's-bill (Geranium sylvaticum)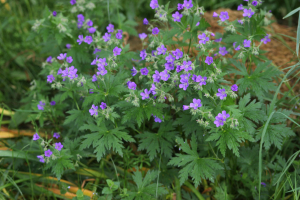 Observation - Wood Crane's-bill (Geranium sylvaticum) - UK and Ireland. Description: Growing in an old hedgerow. Not very much of it but this patch seems to be thriving. A considerable time looking at Rose persuades me of this ID: hairy stalks; hairless leaves and flowers; deeply cut leaves; un-notched petals with darker veins. Edit: Lo
Growing in an old hedgerow. Not very much of it but this patch seems to be thriving. A considerable time looking at Rose persuades me of this ID: hairy stalks; hairless leaves and flowers; deeply cut leaves; un-notched petals with darker veins.
Edit: Location corrected.
Edit 2: Title corrected. Thanks cicuta.
Main navigation