Brynna Woods Boletus 10aug2013 001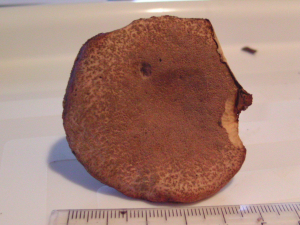 Observation - Brynna Woods Boletus 10aug2013 001 - UK and Ireland. Description: Cap 5cms brown suede-like? texture. Pores yellowy brown oblong 2x1mm. Stipe 6cms x 8mm vertically lined brown but reddish at top. Slight mushroomy smell. No immediate staining on cutting. Slight redding immediately below cap skin after 2-3 minutes and da
Cap 5cms brown suede-like? texture. Pores yellowy brown oblong 2x1mm. Stipe 6cms x 8mm vertically lined brown but reddish at top. Slight mushroomy smell.
No immediate staining on cutting. Slight redding immediately below cap skin after 2-3 minutes and darkening on stipe.
Spores tan.
No sign of white mould on this specimen unlike other Boletus in this area.
Main navigation