Telling female lucorum from male terrestris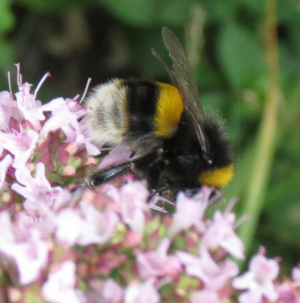 Observation - Telling female lucorum from male terrestris - UK and Ireland. Description: The bumblebee books don't tell you how you actually i/d in the field. They always start 'Count the segments on the antennae'. This is great for a dead bee in a museum, but useless in the field. What you actually do is 1)know what females, males and worker
The bumblebee books don't tell you how you actually i/d in the field. They always start 'Count the segments on the antennae'. This is great for a dead bee in a museum, but useless in the field. What you actually do is 1)know what females, males and workers are about and 2) work out the possibles from the main pattern and a process of elimination.

Pretty much any of the six common spp can be i/d by doing this without counting antennae segments - except male terrestris and female lucorum, which have basically the same pattern: black face, single yellow stripes thorax and abdomen and white tail. This can be buff in male terrestris, but can be pretty gleaming white as well, and it is these that are the problem.

As these are the two most common species, you'd have thought the i/d books would think to mention how to tell the two main confusion-forms (at this time of year) apart, but no.

However I have worked out one way which you can even use without catching sometimes: hair colour on the hind tibia.
Main navigation