Long-tailed Blue ~ Zimbabwe stowaway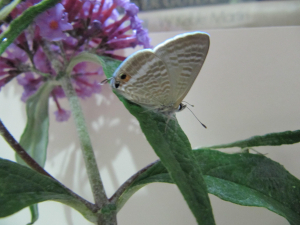 Observation - Long-tailed Blue ~ Zimbabwe stowaway - UK and Ireland. Description: Invertebrate found in a tray of Trimmed Mangetout from Zimbabwe about 1cm long. Can any one help ? Should I inform someone of this interloper ? 6th photo 03-08-2013 20:04pm it has pupated. 7th photo 07-08-2013 14:13pm pupa. 07/08/2013 set an
Invertebrate found in a tray of Trimmed Mangetout from Zimbabwe about 1cm long. Can any one help ?
Should I inform someone of this interloper ?

6th photo 03-08-2013 20:04pm it has pupated.

7th photo 07-08-2013 14:13pm pupa.

07/08/2013 set an aquarium on end put card on the base and up one side with muslin stretched over the open side and hope I might catch it emerging, is there a particular time of day this is more likely to happen ?

10/08/2013 Picture ten, close up of pupa which seems to have darkened. I will be up early tomorrow morning in case it emerges.

The butterfly emerged from the pupa Wednesday morning 14/08/2013. The day before it had darkened more as picture eleven. The next is a shot about 5 mins after emergence of the butterfly and the pupa case and the ones that follow various of the adult Long-tailed Blue which I believe to be a female.
Main navigation