Mutant geum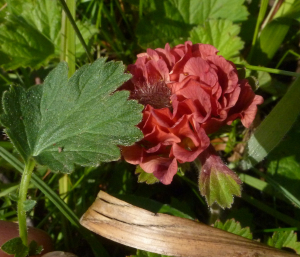 Observation - Mutant geum. Description: I found this flower (two or three) in a scattered drift of Geum rivale (Water Avens). Whilst is has been accepted, elsewhere in iSpot, (see http://www.ispot.org.uk/node/289194) as likely to be a Hybrid 'tween G.rivale and Wood Avens (G.urbanum - ('Herb Be
I found this flower (two or three) in a scattered drift of Geum rivale (Water Avens). Whilst is has been accepted, elsewhere in iSpot, (see http://www.ispot.org.uk/node/289194) as likely to be a Hybrid 'tween G.rivale and Wood Avens (G.urbanum - ('Herb Bennet'). It may be a naturally occurring mutant.
CORE EDIT..
Picture four may be of the Hybrid Avens (Geum rivale x urbanum = G. x intermedium). It was taken at the same location. BUT web-evidence does suggest that there should be some similarities to Geum urbanum - there is none.

Read more in the Comments below.