Hoverfly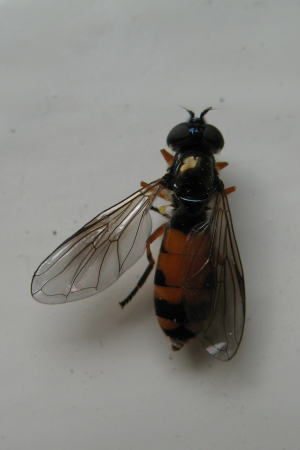 Observation - Hoverfly - UK and Ireland. Description: Vena spuria present (see photo) so definitely a hoverfly. Wing length 10mm. Abdomen is very striking - bright yellow/orange underneath all over while the dordal surface has distinctive orange/yellow markings (but doesn't show well in photo unfortunately)
Vena spuria present (see photo) so definitely a hoverfly.
Wing length 10mm. Abdomen is very striking - bright yellow/orange underneath all over while the dordal surface has distinctive orange/yellow markings (but doesn't show well in photo unfortunately).
Black antennae with bare arista. No obvious modified limbs. I have the (new) Britain's Hoverflies book by Ball & Morris but I'm struggling to key this out. Any thoughts greatly apprecaited even if to get to right tribe/family.
Main navigation