Small Skipper poss @NY224269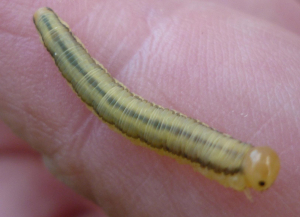 Observation - Small Skipper poss @NY224269 - UK and Ireland. Description: hairless,~20mm long. Resting on grass stem - a number of others on nearby stems. Found in grass at edge of Lake Bassenthwaite. Have trawled net for similar pix, closest ID is small skipper - problem is that it shouldn't occur in this part of Cumbria So
hairless,~20mm long. Resting on grass stem - a number of others on nearby stems.
Found in grass at edge of Lake Bassenthwaite. Have trawled net for similar pix, closest ID is small skipper - problem is that it shouldn't occur in this part of Cumbria
So is it a moth larva?
Main navigation