Chalcid Wasps on a pupa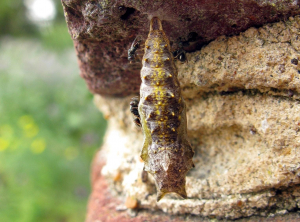 Observation - Chalcid Wasps on a pupa - UK and Ireland. Description: I took these photos of a newly pupated Small Tortoiseshell but it was only when processing them that I noticed the 3 parasitoid wasps. I think they're a type of Chalcid Wasp that attacks the pupa while it is still soft and lay their eggs inside it so tha
I took these photos of a newly pupated Small Tortoiseshell but it was only when processing them that I noticed the 3 parasitoid wasps.
I think they're a type of Chalcid Wasp that attacks the pupa while it is still soft and lay their eggs inside it so that the larvae can eat the pupa from the inside out.

Isn't nature wonderful?
Main navigation