kitenet - a centipede - 11th January 2009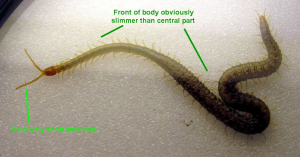 Observation - kitenet - a centipede - 11th January 2009 - UK and Ireland. Description: Doug gave me this centipede that he had found inside his house. I'm not very familiar with centipedes, but it gave me a chance to try out the key in Eason's Centipedes of the British Isles (1964). Not the easiest key in the world (the first couplet requ
Doug gave me this centipede that he had found inside his house. I'm not very familiar with centipedes, but it gave me a chance to try out the key in Eason's "Centipedes of the British Isles" (1964). Not the easiest key in the world (the first couplet requires examination of the coxal pores on the underside of the hind end), but the answer it came up with is Geophilus carpophagus. Apparently this is "the only species of Geophilomorpha commonly found in houses and outbuildings", which gives me confidence that it is this species.

I've annotated the photos a bit to show some of the features used in the key. What I don't know is whether a centipede expert would be able to recognise the species on its general shape and appearance, rather than having to key it out under the microscope.

It's widespread and found in a variety of habitats as well as in houses. Records are currently being collated for a new atlas of centipedes, so I'll forward the record details.
Main navigation