Butterfly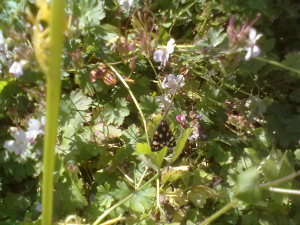 Observation - Butterfly - UK and Ireland. Description: Haven't seen one of these before: medium sized butterfly - about an inch and a half long - mostly dark brown with random-looking but symmetrical white and pale orange blotches. Then, when it opened its wings, a sudden flash of bright scarlet! Apolog
Haven't seen one of these before: medium sized butterfly - about an inch and a half long - mostly dark brown with random-looking but symmetrical white and pale orange blotches.

Then, when it opened its wings, a sudden flash of bright scarlet!

Apologies for the quality of the photos, taken in haste with a cameraphone, but I'm hoping that it's so common that someone can easily put a name to it for me.

Seen while gardening in the village of Letcombe Bassett, near the Ridgeway
Main navigation