Wasp 6686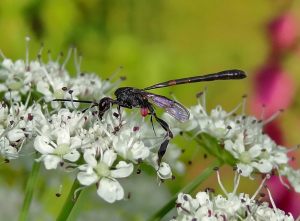 Observation - Wasp 6686 - UK and Ireland. Description: Taken on Hemlock Water Dropwort in the garden, this wasp is one of five or so British species. As far as I can tell, none have been recorded in Cheshire where I live. It's a Gasteruption wasp, possibly 'jaculator' or 'assectator'...but information on
Taken on Hemlock Water Dropwort in the garden, this wasp is one of five or so British species. As far as I can tell, none have been recorded in Cheshire where I live.

It's a Gasteruption wasp, possibly 'jaculator' or 'assectator'...but information on identification is practically none existent. Apart from a paper written in 1951, which I haven't seen, I can't find anything useful.

Anyone with any knowledge would be appreciated.
Main navigation