22-spot ladybird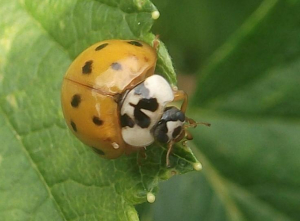 Observation - 22-spot ladybird - UK and Ireland. Description: This ladybird has all the markings in the correct places however some of the spots are not all that clear and are just shadows. The front view does look more like a 22 spot than ever. There are many pupae in the area. Mildew is there food source and I
This ladybird has all the markings in the correct places however some of the spots are not all that clear and are just shadows.
The front view does look more like a 22 spot than ever.
There are many pupae in the area.
Mildew is there food source and I have lost a crop of soft fruit to this.
Main navigation